Renewable energy
Unlimited sunlight and wind create a prosperous life
Solar light and wind are infinite energy sources that are kind to the environment and are attracting attention as new sources of energy for the future.
By establishing and maintaining such renewable energy facilities, IPC aims to create an affluent society where we can live with true peace of mind.
Solar Power Generation
Industrial Photovoltaic Power System
We offer system design, equipment procurement, and site installation of industrial photovoltaic power systems, while responding to various customer's requirements.
IPC photovoltaic power generation
ADVANTAGE 1
Abundant experience and know-how in the energy business
IPC combines the extensive expertise it has accumulated over many years in the fields of large plant construction and electric power generation with comprehensive safety management and quality control to provide finely targeted service from the customer's perspective.
 
ADVANTAGE 2
Assistance and representation related to subsidies and paperwork
IPC provides guidance on preferential treatments, such as subsidies and tax deductions, and assistance with the preparation of the application documents for various subsidies. We also support the grid interconnections for selling power.
 
ADVANTAGE 3
Total support from research, design, and construction through to maintenance
To give the customer peace of mind, we provide total support from adjustments of the optimal implementation plan according to the installation environment and conditions, through to design, construction, and post-installation maintenance such as free inspections one year after installation.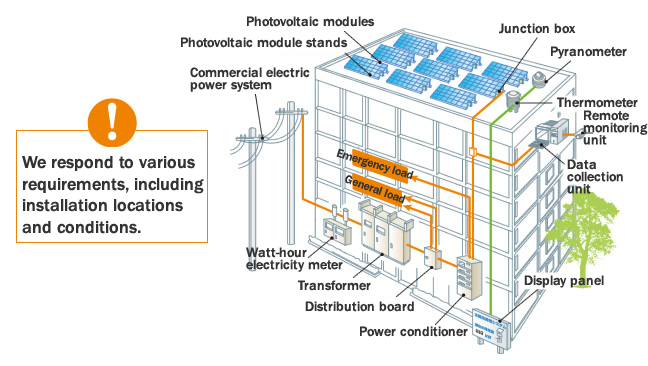 Work flow from consultation to operation and work implemented by IPC
In addition to the procedures below, separate procedures are required to receive subsidies from national or local governments.
① We conduct a preliminary survey into the photovoltaic panel installation.
We then submit an estimate based on the survey results.
② We conduct technical investigations with the electric power company in advance to determine whether grid interconnection with the electric power company will affect other equipment. (Advance inquiry)
The application for an advance inquiry is submitted by the customer to the electric power company. However, we will assist with compiling the documents required for the application procedure.
If the technical investigation determines that it is necessary for the electric power company to install new equipment, the electric power company will provide a reply with a construction summary and a cost estimate for the interconnection. The reply takes about three months from the advance inquiry application.
After the reply is obtained, IPC makes the application again and starts construction.
③ It is necessary to obtain equipment certification from the national government in order to sell electricity. Additional procedures are required to appoint the chief electrical engineer.
We will support this application.
④ The construction period varies according to the conditions and scale. An overview is given at the time of the estimate.
⑤ Interconnection and operation startup are performed in the presence of the electric power company.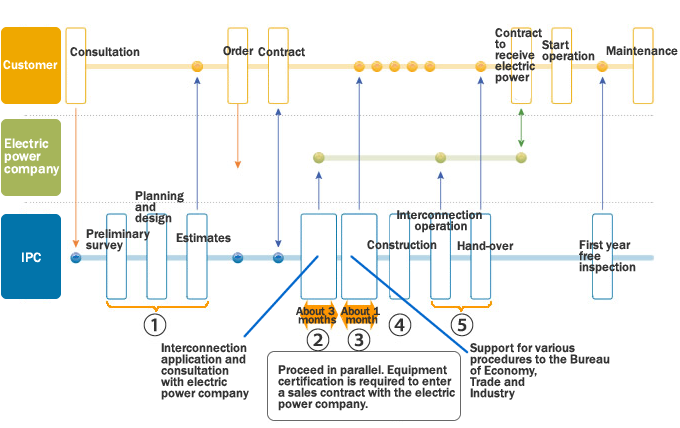 Maximum photovoltaic output and installation space
We calculate the number and area of panels that can be installed at each angle.
(Assuming 250 W/panel, latitude of Tokyo)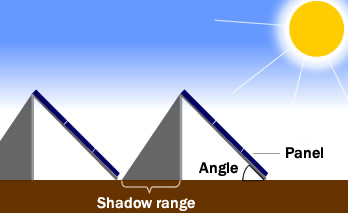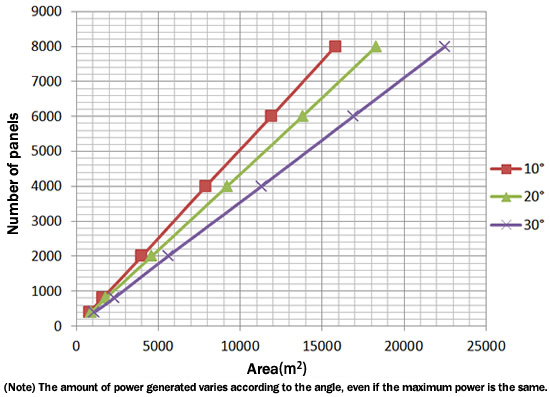 Manufacturers we deal with
We recommend the optimal domestic and overseas manufacturers.
We can also deal with other manufacturers, so do not hesitate to request your wishes.
Installation examples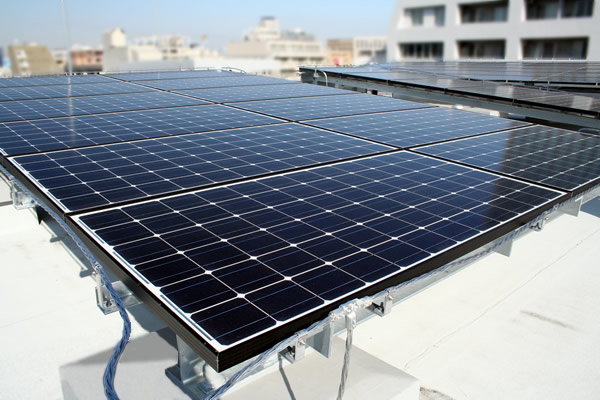 Roof-mounted type
Case study
IHI Corporation
"I-Suite Shinkawa" apartment rooftop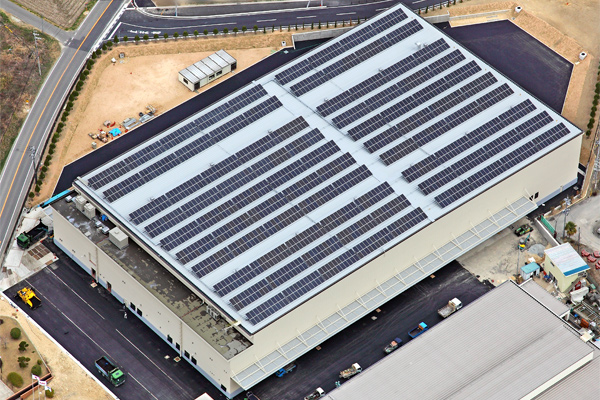 Roof-mounted type
Case study
KYC Machine Industry Co., Ltd. Nishiwaki Factory rooftop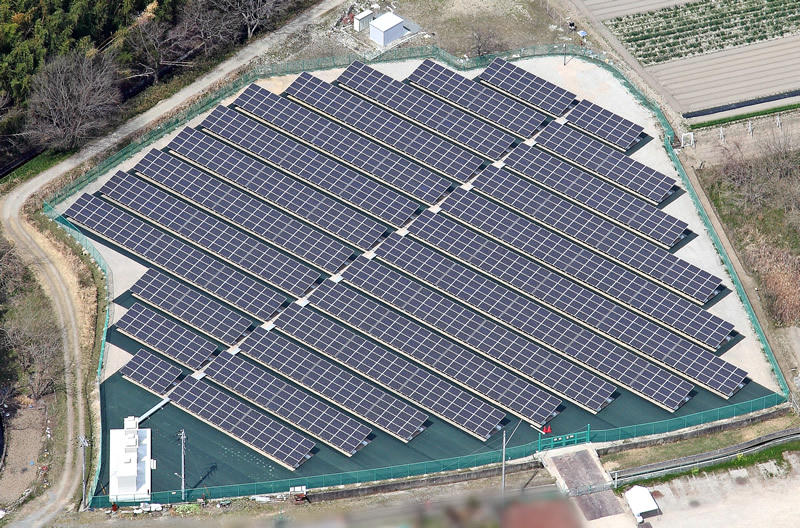 Ground-mounted type
Case study
In-house power plant IHI Plant Construction Co., Ltd.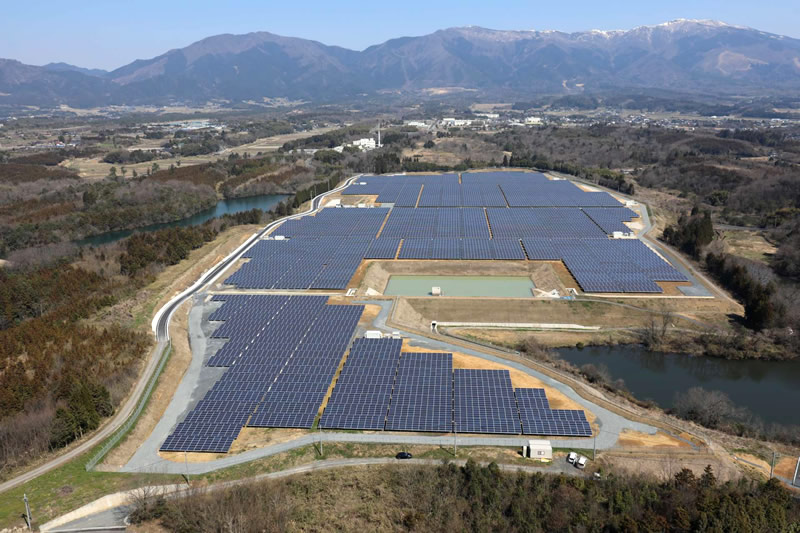 Ground-mounted type
Case study
Nagi town, Okayama Prefecture
---
Wind Power Generation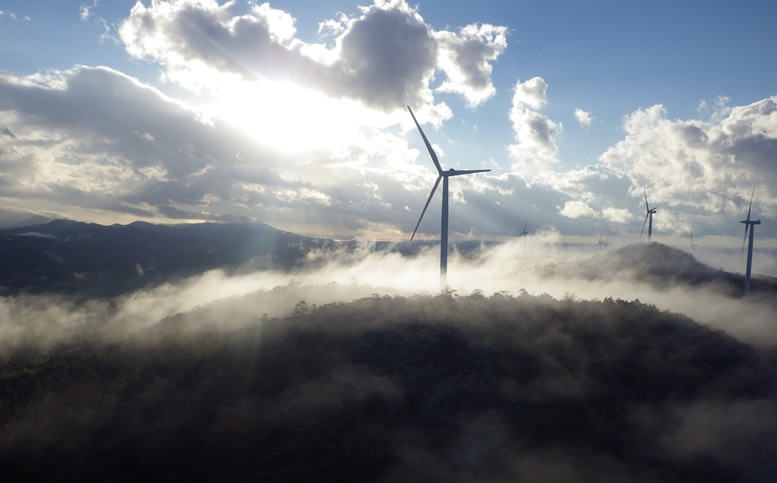 Unlimited wind creates a prosperous life
Wind power is an inexhaustible energy source that is also environmentally-friendly. However, wind power generation requires many protective devices in order to operate safely, and frequently comes to a stop on its own. Factors such as lightning can also cause breakdowns and halt operations.
IPC carries out inspection and repair work periodically on a daily, monthly, half-yearly, and yearly basis, maintaining the integrity of wind power equipment and contributing to improvement in the utilization rate as well as the continuous operation of wind turbines.
Other Contents